Mediterranean Brisket
Overview
This award winning recipe is simple, easy, unique and has a huge abundance of flavor. It's unusual to cook brisket this way, but the sweetness and richness of both the meat and Bella Sun Luci sun dried tomatoes make them a natural combination.
Put it in the oven, go watch a movie and after you'll have a luscious comfort food that you'll want to eat until it's all gone. Buon appetito!
Total Cook Time: 45 minutes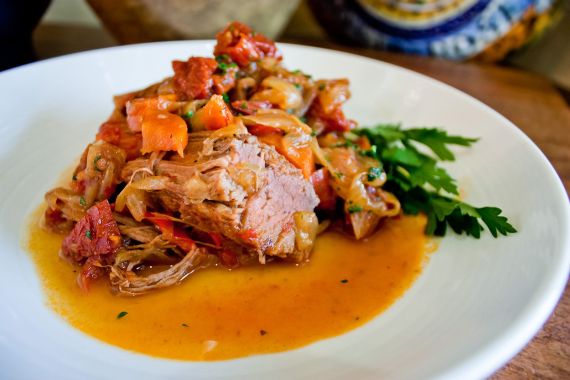 Ingredients
1 5-6 lb. first cut brisket
2 tsp unbleached flour
Coarse ground pepper to taste
Salt to taste
¼ cup Bella Sun Luci extra virgin olive oil
6 large or 8-10 medium onions, sliced in ¼ inch rings
2 red peppers, seeded, sliced in ¼ inch rings
3 carrots peeled and cut in ½ inch pieces
1-8.5 ounce jar Bella Sun Luci Halves, drained, and cut into quarters
1-15 ounce can of plum tomatoes
1-2 cups beef broth
3 Tbsp tomato paste
Directions
Preheat oven to 350º.
Trim the fat from the brisket and dust with flour, then sprinkle with salt and pepper
Heat the oil on the stove top in the heavy casserole in which you will be cooking the brisket. Add the brisket and cook on a medium heat until lightly brown. Turn and cook on the other side.
Take the brisket out of the casserole and set aside. Add the sliced onions cooking over medium heat, scraping the meat particles into the onions. Cook for 8-12 minutes until the onions are soft and translucent.
Add the red bell peppers and cook for a little while longer until soft but not totally limp. The onions should be almost brown.
Turn off the heat and place the brisket (with the more fatty side up) on top of the onions and peppers.
Spread the top of the brisket with tomato paste.
Place the carrots and sun dried tomatoes all around the brisket
Open the can of plum tomatoes and chop the tomatoes to break them up and add them around the brisket. (Leave juice in the can.)
Add the beef broth to the liquid from canned tomatoes. This should be at least 2 cups of liquid. Pour all around the brisket. Be sure anything dry is now wet. If you need more liquid add more water or broth.
Cover with heavy-duty foil so it is all sealed.
Bake at 350º for 3 ½ hours. Do not open at all during baking; keep the casserole sealed. (After cooking you will have a lot of liquid and moist meat)
Slice against the grain and neatly put back in casserole dish, putting the meat into remaining liquid if possible. Garnish with pepper and onion pieces left in pan.