California Summer Caprese Salad
Overview
This is a California twist on the classic Italian dish caprese salad. More popular in the warmer summer months but so delicious all year round. Bright bites of ripe avocados, cucumbers, and robust sun dried tomatoes transport taste buds to the Amalfi's coast line. The creamy mozzarella and crunchy pine nuts make this dish even more irresistible.
Total Cook Time: 15 minutes
Serves: 4
Gluten Free Vegetarian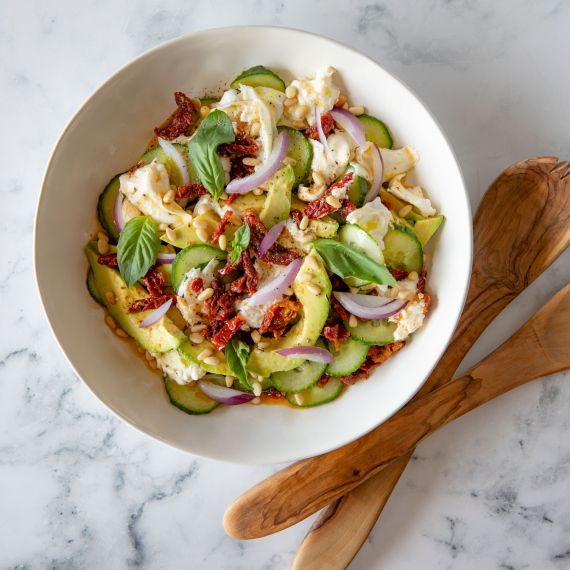 Ingredients
1 large ripe avocado
1 8.5oz Bella Sun Luci Sun Dried Tomato Halves jar, reserve the seasoned oil
2 c english cucumber, sliced
1/3 c red onion, rough chopped
8oz fresh mozzarella
1 tbsp whole pine nuts
8 basil leaves, fresh
3 tbsp rice vinegar
Salt and pepper to taste
Directions
Tear mozzarella cheese into bite sized portions and add to a medium sized bowl along with sun dried tomatoes, cucumber, red wine vinegar, and red onion. Stir well to combine.
Carefully fold in the the sliced avocado, then salt and pepper to taste.
Garnish with pine nuts and basil then serve.