Mediterranean Cobb Salad
Overview
One thing I think this needs is cheese. You choose which goes best, you're the chef, but if you want advice I'd say feta which keeps it in the mediterranean family, adds a sharp kick and a more antipasto-like texture. This is a fun, colorful salad that the sun dried tomatoes brings together as a whole greater than the sum of its parts.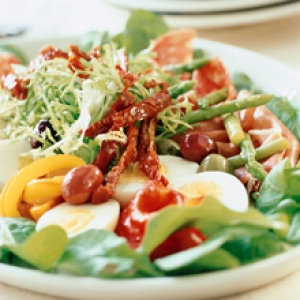 Ingredients
2 Cups of your favorite lettuce or spinach blend
1 8.5 oz jar of Bella Sun Luci Sun Dried Tomatoes Julienne Cut in Olive Oil & herbs, drained reserving oil
6-8 stalks of Marinated Asparagus
¼ Cup of Olives - Pitted and Chopped
½ Cup of Sweet Red and Yellow Peppers - Sliced
2 Hard Boiled Eggs - Sliced
Add sliced prosciutto or Salami to taste
Directions
Layer each of the ingredients on a serving platter starting with the lettuce/spinach blend on the bottom.
Pour the vinaigrette ingredients in a bowl and whisk until blended. Add sliced Prosciutto or Salami to taste.
Drizzle cold vinaigrette over salad ingredients and chill for up to 2 hours before serving.