Mediterranean Potato Salad
Overview
Another simple and clean recipe that has only four ingredients besides the salt and pepper, and that is SO Italian. The directions of the recipe call for olive oil so that's five ingredients, and we strongly recommend Bella Sun Luci extra virgin olive oil, pressed from arbequina olives grown by us. I also recommend a squeeze of lemon to further italianize and marry the flavors.
Total Cook Time: 15 minutes
Gluten Free Vegetarian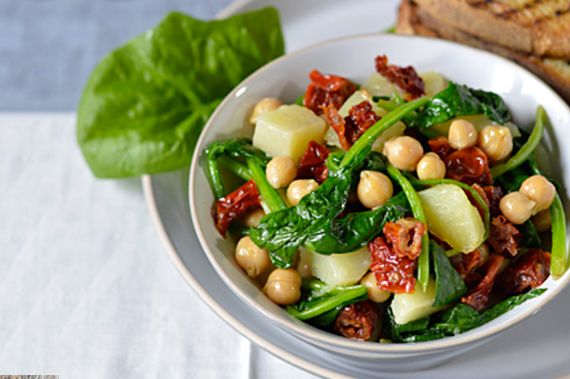 Ingredients
1 russett potaoto, peeled and cubed
1 cup garbanzos, canned or cooked from fresh, drained of any liquid
2 cups cleaned spinach leaves
1 3.5 oz bag Bella Sun Luci Sun Dried Tomato Halves
Sea salt and fresh cracked black pepper to taste
Directions
In a pot with a steamer basket and tight-fitting lid, cook the cubes of potato, until just soft.
Add the garbanzos, sun dried tomatoes and spinach.
Cover again and steam 1-2 more minutes.
Remove all and toss in a bowl with the salt and pepper, and any olive oil you might choose to drizzle on top (1 or 2 tbsp should do it).