Sun Dried Tomato Greek Salad
Overview
This crunchy, colorful, summery, luscious mixture of vegetables, Bella Sun Luci sun dried tomatoes, herbs, oil and vinegar is a unique and delicious take on the greek salad. If you want an "actual" salad, add spinach. You could also turn this into a Greek panzanella with the addition of chunks of bread, or even croutons. However you serve this dish, the combination of flavors, textures and the brightness of the red wine vinegar will bring Mediterranean sunlight, the bella sun luci, to your table.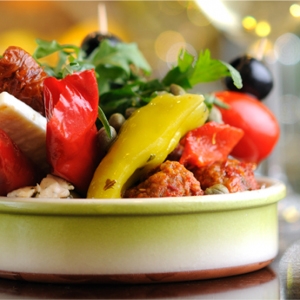 Ingredients
1 Cucumber, Sliced ¼-inch thick pieces
1 Yellow Bell Pepper, Cubed
1 Red Bell Pepper, Cubed
1-8.5oz jar Bella Sun Luci Sun Dried Tomatoes, Halves in Olive Oil & Herbs
1-8oz jar Greek Olives, Pitted
¼ Red Onion, Sliced
½ Pound Feta Cheese, 1/2-inch Cubed (Not Crumbled)
Flat Leaf Italian Parsley-finely chopped
⅛ Cup Bella Sun Luci EVOO as Dressing
⅛ Cup Red Wine Vinegar
Cracked Pepper to Taste
Serves 4
Directions
Combine in a large bowl; cucumber, peppers, sun dried tomatoes and the oil from jar, olives, and red onion.
Gently fold in Feta cheese.
Drizzle EVOO & red wine vinegar on top of salad and toss.
Finish with cracked pepper and parsley as garnish.
Serve with your favorite whole grain bread.