Cactus Salad
Overview
The recipe for this salad was developed before the invention of our sun dried tomato chipotle sauce so please feel free to now use two tablespoons of our sauce in place of the chipotle chiles here. This is a uniquely south of the border salad. You can, if you prefer, substitute pickled nopalitos (sliced cactus) in a jar, for the sometimes harder to find raw cactus.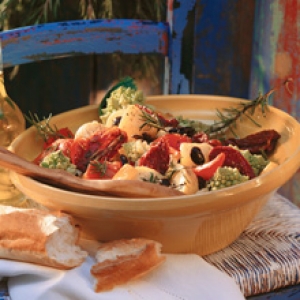 Ingredients
4 lg Cactus Paddles (thorns & nodes removed)
2 qts water
1 tbsp salt
3 Ea. scallions
¼ cup cider vinegar
1 Tbsp lime juice
½ cup Bella Sun Luci Sun Dried Tomatoes In Olive Oil
⅓ cup reserved olive oil
2 tsp fresh oregano leaves
½ cup sautéed red onions
½ cup Queso Fresco (crumbled)
2 Ea Chipotle Chilies (drained & chopped)
Directions
Pare off edges of cactus paddles and slice into ¼ inch strips.
Bring water, salt, and scallions to a boil.
Drop in cactus strips and bring to boiling.
Reduce heat and simmer until tender.
Drain and rinse.
Combine vinegar, lime juice, oil, sun dried tomatoes, and oregano in separate bowl.
Arrange cactus strips and sautéed onions on platter, pour vinegar mixture over salad, sprinkle cheese and chilies on top and serve.