Roasted Cauliflower with Sun Dried Tomatoes and Pine Nuts
Overview
This wonderfully simple recipe has four ingredients besides the salt and pepper and the simple cooking technique translates to all vegetables, so if you're not a cauliflower fan, try it with zucchini, asparagus, butternut squash or anything...really.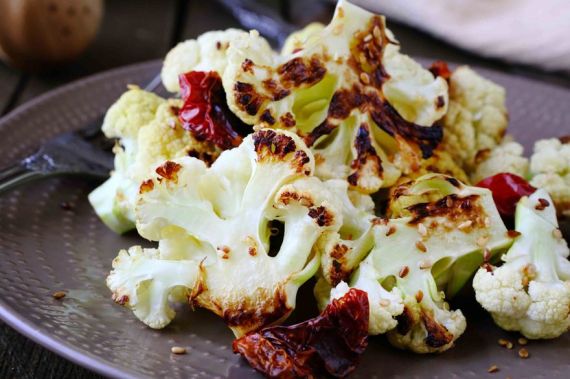 Ingredients
1 head cauliflower, cut into medium-size pieces
1 - 3.5 oz bag Bella Sun Luci Sun Dried Tomatoes Julienne Cut
2 tbsp Bella Sun Luci Extra Virgin Olive Oil
¼ cup pine nuts, lightly toasted (slow and careful, tossing almost constantly, over a medium flame) in advance
Sea salt and freshly ground black pepper to taste
Directions
Preheat the oven to 500° F, or, if you're uncomfortable cooking at such a high temperature, preheat the oven to 450° F or 475° F and add several minutes to the cook time.
Line a preferably heavy sheet pan with parchment paper, for less sticking and easy cleaning of your pan.
Toss the cauliflower with the olive oil, salt and pepper and then turn it onto the pan.
Roast 25-30 minutes, until there is a nice caramelized color on the cauliflower.
When the cauliflower comes out of the oven…while hot, toss it with the sun dried tomatoes. Sprinkle the pine nuts all around the plate to finish.
This dish is also great at room temperature, as an appetizer or nice addition to an antipasto platter. It can also be tossed with pasta, baked in lasagne or any number of creative applications.