Italian Onion Rings with Sun Dried Tomato Aioli
Overview
Crunchy with a soft onion center these onion rings are paired with a creamy sun dried tomato aloli. A true indulgence that can be easily prepared in your own kitchen. The crisp outer layer is achieved by making a wet batter by using a heavy amount of buttermilk. Golden brown and crispy the snack is best served warm as a appetizer or side.
Total Cook Time: 30 minutes
Serves: 4 as a side
Vegetarian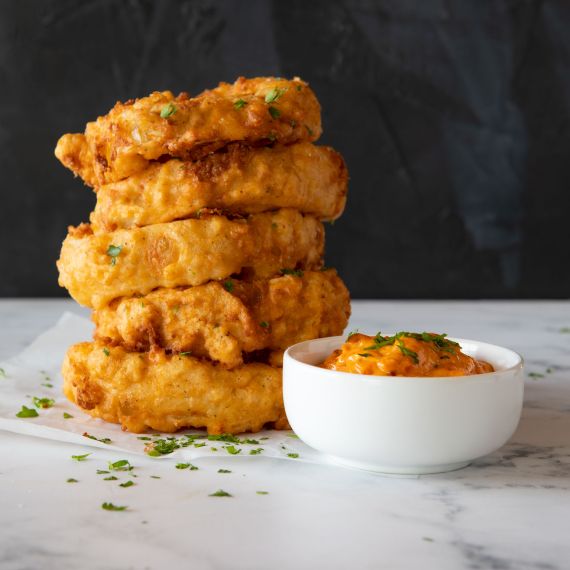 Ingredients
Sun Dried Tomato Aioli
½ c Bella Sun Luci Sun Dried Tomato Chipotle
½ c Mayonaise
Italian Onion Rings
2 large sweet onions
2 c all purpose flour
1 tsp salt
2 tsp pepper
3 c buttermilk
2 tsp Italian seasoning
2 c breadcrumbs
Olive oil for deep frying
Fresh parsley for garnish
Directions
Add Chipotle Sauce and Mayonaise to small bowl and mix well until combined. Set aside.
Peel onions and cut into thick rings. Reserve smaller onion rounds for another dish.
Preheat pan with at least 4 inches of olive oil to 365 degrees
In a medium sized bowl mix flour and salt and pepper. Add buttermilk to the flour mixture and mix well.
In a separate bowl combine Italian seasoning and bread crumbs.
Dip one onion ring into the flour mixture and then dredge into the Italian breadcrumbs.
Carefully add coated rings to hot oil for 2-3 minutes on both sides.
Remove from pan and let excess oil drain off on a paper towel or wire rack.
Garnish with fresh chopped barely and serve warm.