Insalata Caprese with Sun Dried Tomato Tapenade
Overview
Insalata Caprese (insalata means salad) and the word 'capricious' (sudden and unaccountable changes of mood or behavior) both come from an Island off the coast of Naples called Capri. The salad doesn't really have as much to do with mood swings and it's pretty much always the source of happiness, especially when you add to the traditional recipe these modern twists: Bella Sun Luci sun dried tomatoes, olives and edible blossoms. You may also want to substitute burrata for the mozzarella. Just sayin'.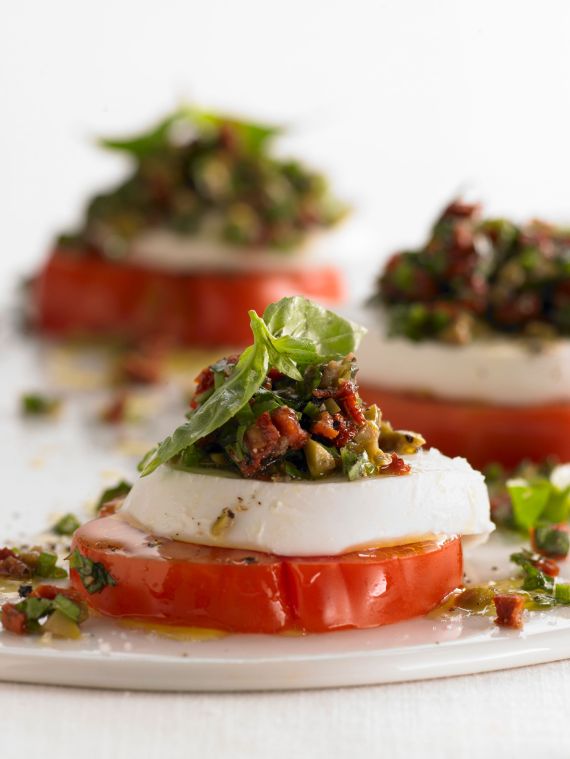 Ingredients
3 large or 6 medium heirloom or vine ripe tomatoes
8 oz fresh mozzarella
¼ cup Bella Sun Luci extra virgin olive oil
½ Cup black and/or green pitted olives
1 large garlic clove, minced
½ cup 8.5 oz jar (about 1/2 cup) Bella Sun Luci sun dried tomato bruschetta
8 basil leaves
8 basil leaves, julienne
Salt and pepper to taste
Optional: Edible blossoms like nasturtiums, calendulas and/or herb flowers make dramatic, elegant garnishes. Also add more/extra olive oil and sun dried tomatoes julienne.
*Serves 6
Directions
Slice the tomatoes and mozzarella in equally thick round slices (you can cut each round in half, into half moons, to get more pieces).
Mix the olives (reserving 1 Tb aside), garlic and bruschetta. Arrange an equal amount of tomato mozzarella slices on individual plates in an alternating wheel/fan pattern, drizzle the oil equally, sprinkle with salt and pepper.
Top with the tapenade and basil over each salad and sprinkle the remaining Tb olives equally/randomly.