Olive Oil Dipping Oil with Tuscan Herbs & Sun Dried Tomatoes
Overview
Enjoy your Olive Oil Dipping Oil with Tuscan Herb and Sun Dried Tomato Blend as a delightful appetizer or accompaniment to your meal. The flavors should dance on your palate, combining the richness of the oil with the aromatic herbs, sweet sun dried tomatoes, and the bright acidity of the balsamic vinegar. If desired, you can garnish the dipping oil with a few fresh basil leaves or additional sun dried tomato bits for a pop of color and extra flavor.
Total Cook Time: 15 minutes
Serves: 4
Vegetarian Vegan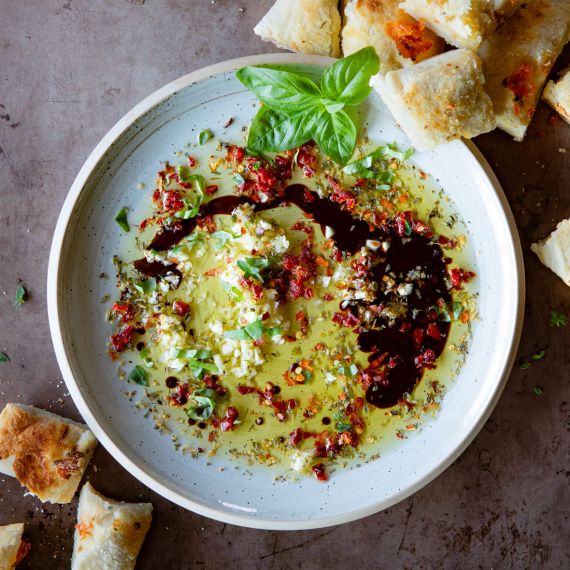 Ingredients
½ c Bella Sun Luci Extra Virgin Olive Oil
½ tbsp garlic, minced
½ tbsp fresh basil, chiffonade
1 tsp oregano
1 tsp red pepper flakes
1 tsp thyme, fresh or dried
1 tsp rosemary, fresh or dried
2 tbsp Bella Sun Luci Sun Dried Tomatoes Juleinne Cutt in Olive Oil, drained and diced
2 tbsp High-quality balsamic vinegar for drizzling
1 Crusty bread loaf
Directions
Pour the oil into a shallow serving bowl or plate.
Season the oil with the herbs and sund ried tomatoes. Adjust the seasoning to your taste. Optionally you can let the oil sit for an hour. This allows the flavors to meld and the sun dried tomatoes will infuse the oil.
Slice your crusty bread into bite-sized pieces or thin slices. You can toast it slightly if desired, but fresh, crusty bread works wonderfully as is.
Before serving, drizzle balsamic vinegar over the infused olive oil in the serving dish. This adds a sweet and tangy contrast to the herbaceous oil.
To enjoy, simply dip a piece of bread into the infused olive oil and balsamic vinegar mixture.