Sun Dried Tomato Whipped Feta
Overview
This recipe combines the creamy goodness of homemade whipped feta with the intense flavors of sun dried tomatoes, resulting in a delectable and vibrant dip that will elevate your snacking experience. Made from scratch, this dip is incredibly easy to prepare and can be enjoyed as an appetizer, snack, or even a light meal.
Total Cook Time: 15 minutes
Serves: 5
Vegetarian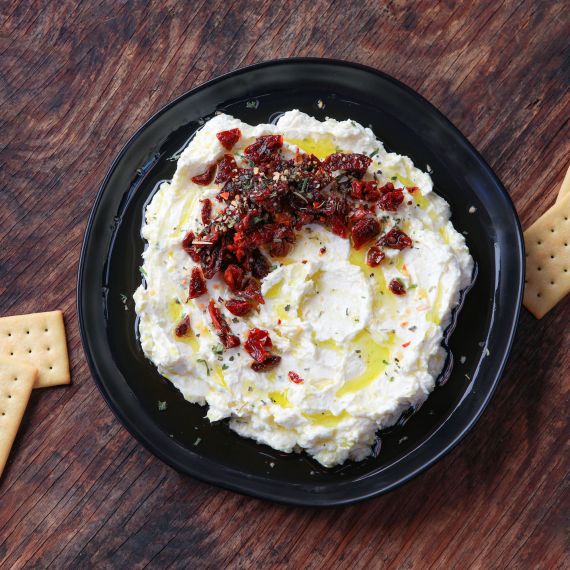 Ingredients
8oz feta cheese, crumbled
2 tbsp infused sun dried tomato olive oil
2 tbsp Greek yogurt
1 tbsp fresh lemon juice
1 tbsp dried oregano
1/2 tbsp dried basil
1/2 tbsp dried thyme
Salt and pepper to taste
1/4 c Bella Sun Luci Sun Dried Julienne Cut Tomatoes in Olive Oil, diced and oil reserved
Directions
In a food processor, combine the crumbled feta cheese, sun dried tomato infused olive oil, Greek yogurt, lemon juice, dried oregano, dried basil, and dried thyme. Pulse until the mixture is smooth and well combined. Alternatively, you can use a hand mixer or a blender.
Taste the whipped feta and season with salt and pepper according to your preference. Remember that feta cheese is naturally salty, so you might not need much additional salt.
Transfer the whipped feta to a serving bowl or plate.
Garnish the whipped feta with the chopped sun dried tomatoes, drizzling some of the olive oil from the jar on top.
Serve the whipped feta with Italian herbs alongside toasted bread, pita chips, or vegetable sticks for dipping.