Balsamic Summer Stone Fruit and Cheese Platter
Overview
Sweet stone fruits are abundant in warm summer months and this recipe is a spectacular solution for savoring the fruits of the season in one dish. The ripe fruit pairs wonderfully with creamy burrata while contrasted with rich balsamic and extra virgin olive oil in our balsamic vinaigrette.
Total Cook Time: 15 minutes
Serves: 4
Vegetarian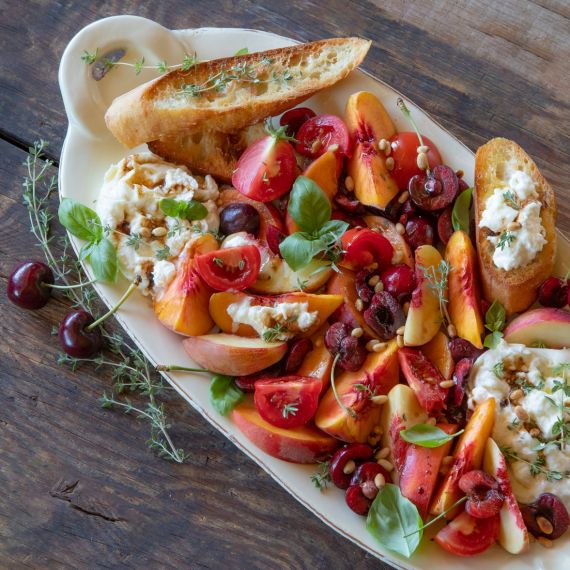 Ingredients
1 French baguette
2 tbsp Bella Sun Luci Extra Virgin Arbequina Olive Oil
A pinch of sea salt
2 c bing cherries
2 white nectarines
2 large peaches
2 heirloom tomatoes
2 burrata balls
¼ c Bella Sun Luci Balsamic Vinaigrette
¼ c pine nuts
Fresh thyme and basil for garnish
Directions
Preheat oven to 375 degrees. Slice baguette into half inch thick pieces then toss in olive and sea salt.
Arrange coated baguette slices onto a cookie sheet and place in oven for 7 minutes or until golden brown. Set aside.
Prepare cherries, nectarines, peaches, and tomatoes by slicing into smaller sections and discarding the pits if necessary.
Place the burrata cheese on the platter on opposite ends then fill the remainder of the voided space with the assortment of sliced fruits.
Drizzle the platter with balsamic vinaigrette and top with pine nuts.
Garnish with fresh herbs and serve immediately along with toasted baguettes.