Spaghetti with Sun Dried Tomato Marinara
Overview
We believe that simple ingredients with a touch of flair create the best results. and...doctoring up your food, your way, is how you become king or queen of your kitchen.
Adding Bella Sun Luci sun dried tomatoes to a traditional marinara, as this recipe does, is the way to get regal results in our castle. Of course if you're a little more "boss" and you want to slice the garlic super thin with a razor blade so it melts into the sauce, that'll work too.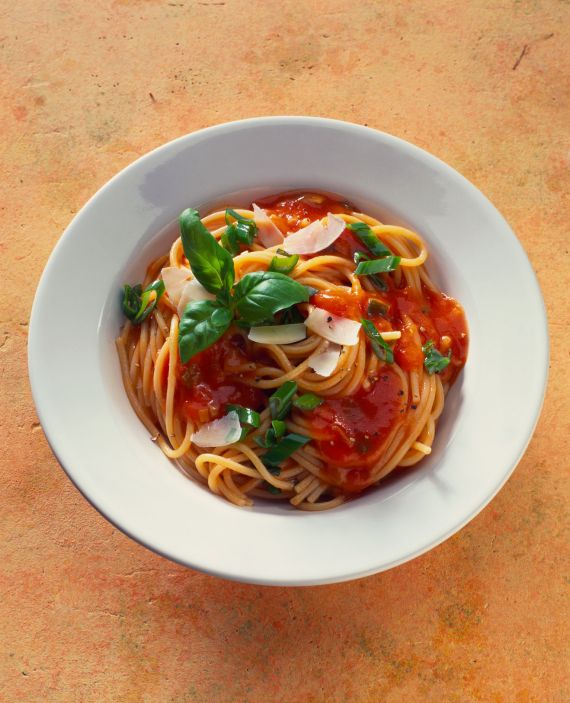 Ingredients
2/3 cup Bella Sun Luci sun dried tomatoes julienne cut or halves in oil, oil drained and set aside, sun dried tomatoes pureed and set aside separately
4 lg garlic cloves, rough chopped
1/2 tsp whole dry oregano
4 oz dry white wine
28 oz crushed tomatoes or tomato sauce
Salt and pepper to taste
Parmesan and fresh basil leaves for garnish
Serves 4
Directions
Over a medium flame in a large sauce pan, heat 1 Tbs of the sun dried tomato oil and sauté the garlic, stirring often until light golden.
Add the oregano, stir 15 seconds, add the wine and reduce until 1/2-1 oz liquid remains.
Add the 28 oz tomatoes and sun dried tomato puree, heat to simmering, turn to low and simmer 10 minutes stirring often, season with salt and pepper and serve hot over just-cooked, well drained spaghetti.
Garnish with basil and parmesan.