Spaghetti with Sun Dried Tomatoes Amatriciana
Overview
Our amico Aldo, who's from Amatrice, a tiny town in the mountains bordering Abruzzo, about 100 miles from Rome, says this dish should be made with bucatini pasta, essentially spaghetti but wider and with a hole through the middle, where the sauce will collect. Either way, with bucatini, spaghetti, or penne and our Bella Sun Luci sun dried tomatoes, you'll love this dish with all of it's big flavor. Amatrice is actually a derivative of the word lover, from near Roma, where the word romance comes from. Try this dish at home and we're sure that romantic love will be in YOUR town too.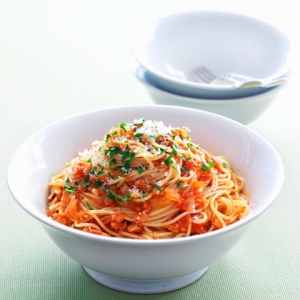 Ingredients
1 cup Bella Sun Luci sun dried tomatoes in oil, oil drained and set aside, sun dried tomatoes set aside separately
4 oz very thinly sliced pancetta
4 large garlic cloves, rough chopped
Salt and pepper to taste, very light as the pancetta is salty and peppery
Parmesan and fresh parsley leaves for garnish
Serves 4
Directions
Over a high flame in a large sauce pan, heat 1 tablespoons of the sun dried tomato oil, add the pancetta stirring often, turn to medium and let cook without stirring as if crisping bacon for 2 minutes, until slightly crispy.
Add the garlic and sauté, stirring often until the pancetta is crispy and the garlic is light golden. Add sun dried tomatoes and warm through.
Season with salt and pepper and serve hot over just-cooked, well-drained spaghetti.
Garnish with parsley and Parmesan.