Sun Dried Tomato Quiche
Overview
This simple luscious quiche with goat cheese and sun dried tomatoes two ways is great at any meal. You as the chef may want to add ingredients, spinach will make it Florentine. Bacon will make it Lorraine-ish. Pre-roasted mushrooms and broccoli will add vegetarian character. Go nuts! In fact, walnuts might make a nice addition too!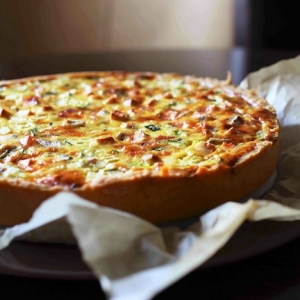 Ingredients
½ cup Bella Sun Luci Sun Dried Tomato Pesto
1 (9 inch) unbaked pie crust
4 tbsp. crumbled goat cheese
3 eggs
½ cup half and half cream
1 tbsp. all purpose flour
8 Bella Sun Luci Sun Dried Tomatoes in Extra Virgin Olive Oil, drained and cut into strips
Serves 4
Directions
Preheat oven to 400° F
Spread pesto evenly in the bottom of the pie crust.
On top of pesto sprinkle pieces of sun dried tomatoes.
Sprinkle goat cheese over tomatoes.
In a large bowl, beat together eggs, half and half cream, and flour. Pour over goat cheese in pie crust.
Arrange sun dried tomatoes on top.
Bake in oven for 35 to 45 minutes or until eggs are set.