Spinach and Sun-Dried Tomato Soufflé
Overview
I have always loved savory souffles. A chef friend's lobster souffle blew my mind back in the day. If you're feeling luxuriously creative, adding an ounce or 2 per portion of cooked lobster to this recipe will NOT ruin your day.
Although this recipe did work out fine in our beautiful Bella Sun Luci test kitchen, I have two small pieces of technical advice for you, which your souffle, and guests, will thank you.
Use back yard or farmers' market eggs.
Don't just drain off the cooked spinach liquid, but wait for the spinach to be cool enough and then squeeze out, by hand, any excess liquid.
Bon chance mes amis!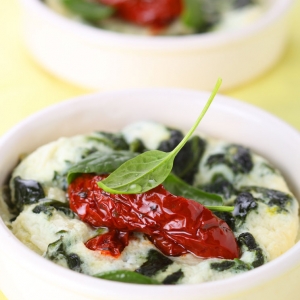 Ingredients
*You will need four ceramic ramekins for this dish
8 large eggs, cracked and beaten with 1 oz heavy cream, 1 TB grated parmesan, salt and freshly cracked black pepper to taste
2 garlic cloves, minced
1/2 tsp Bella Sun Luci Extra Virgin Olive Oil
2 cups baby spinach, de-stemmed (reserve four or more perfect leaves for garnish)
4 tsp Bella Sun Luci ready to eat sun-dried tomatoes, Greek variety bag, Basil variety bag, zesty pepper or original flavor variety bags (reserve four nice pieces for garnish)
1 TB unsalted butter, plus a little more for greasing the ramekins
4 pinches of flour
Directions
Preheat the oven to 350 (do not use convection).
In the olive oil, sauté the garlic until it's a light yellow color then add the spinach, a pinch of salt and sauté until just cooked.
Drain off any liquid, and remove to a bowl and set aside.
When room temperature, add to the egg-cream mixture and mix well.
Grease the ramekins and sprinkle a pinch of flour onto the butter.
Pour in your mixture.
Top each with the reserved sun-dried tomato piece.
Place the ramekins into a baking dish and add WARM water so the water is ¼ - ⅓ of the way up the side of the ramekins (like a Bain-Marie).
Bake 7-9 minutes, until the eggs puff up.
Remove from the oven, garnish each with a spinach leaf and serve hot.