Broccoli and Sun Dried Tomato Quiche
Overview
Looking for a go-to brunch idea? Look no further, this luscious dish is filled with fresh broccoli, garlic, sun dried tomatoes, and Parmesan. For our quiche we substituted a heavy cream to give the dish even more flavor. Garnish with diced sun dried tomatoes on top for an even better presentation!
Total Cook Time: 45 minutes
Vegetarian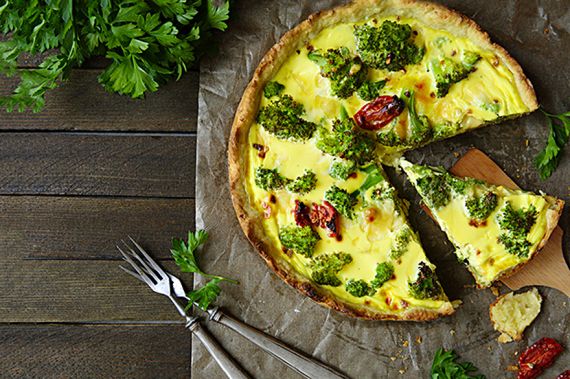 Ingredients
1 - 9-inch pie shell
1 head broccoli, cut into florets
2 tbsp + 1 teaspoon Bella Sun Luci Extra Virgin Olive Oil
2 large garlic cloves, peeled and minced
1 small yellow onion, peeled and sliced into half moons
6 large eggs
1½ cups half-and-half
¼ tsp grated nutmeg
¼ tsp cayenne
5 ounces sharp white cheddar, shredded, about 2 cups
¼ cup grated parmesan
½ jar (about 4 oz) Bella Sun Luci Sun Dried Tomato Halves with Extra Virgin Olive Oil and Italian Herbs, olive oil drained very well and reserved aside for a future dish
Salt and freshly cracked black pepper to taste
Directions
Preheat oven to 475°F.
Toss the broccoli in the 2 TB olive oil, season with salt and pepper and roast for 20 minutes on a parchment paper lined sheet pan. Set aside.
While you're doing this, sauté the onion over a high flame in the 1 tsp olive oil with a pinch of salt until translucent, add the garlic and sauté 1 more minute stirring constantly. Remove and set aside.
Turn oven down to 375°F.
Whisk together eggs, half-and-half, cheeses, nutmeg, cayenne, and 1/4 tsp salt in a large bowl until smooth.
Pour liquid filling into pie shell then add broccoli, onion and garlic
Bake quiche 30 minutes, gently add the sun dried tomato halves, some into the quiche and some on top, then bake another 15-20 minutes until the quiche is just set, (45 to 50 minutes total). Cool at least 20 minutes.