Mediterranean Breakfast Salad
Overview
A salad worth waking up for! Enjoy crispy bacon and tender sun dried tomatoes alongside crunchy spring mix dressed in our 100% Olive Oil Balsamic Vinaigrette. These fresh flavors are completely customizable and can be swapped for any vegetables creating a great start to any day!
Total Cook Time: 30 minutes
Serves: 1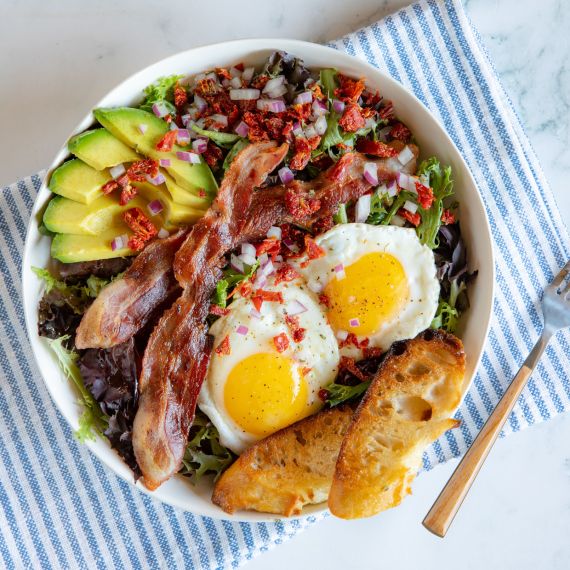 Ingredients
2 pieces thick cut uncured Llano Seco bacon
2 large eggs
2 c spring mix
⅓ c Bella Sun Luci Balsamic Vinaigrette
½ ripe avocado, sliced
3 tbsp Bella Sun Luci Greek Oregano Sun Dried Tomatoes, diced
2 tbsp red onion, finely diced
2 slices french bread, toasted
Salt and Pepper
Directions
Over medium to high heat cook bacon until proffered doneness.
Leaving the remaining bacon grease in the pan lower to medium heat. One at a time gently crack each egg and carefully place the yolk and white in pan. Here feel free to prepare you eggs any style, we prepare sunny side up. Garnish with salt and pepper.
Plate the spring mix and dress with balsamic vinaigrette, then top with cooked bacon and eggs.
Next, add flavorful options like ripe avocado, sun dried tomatoes, and red onion to the salad.
Garnish with toasted French bread and serve immediately.