Cauliflower No-Sotto with Sun Dried Tomato Tahini Cream – 3rd Place Winner 2015 Recipe Contest
Overview
This super creative and delicious dish is gluten-free, virtually carb-free and except for a little sun dried tomato oil, fat free. This is normally a recipe for flavor failure, but not this time. We were all pleasantly surprised by this dish's big big flavor and pretty color, so much that it was a finalist in our recipe contest! We love it when you home chef folks become artists and share your creativity with us!
Total Cook Time: 45 minutes
Gluten Free Vegetarian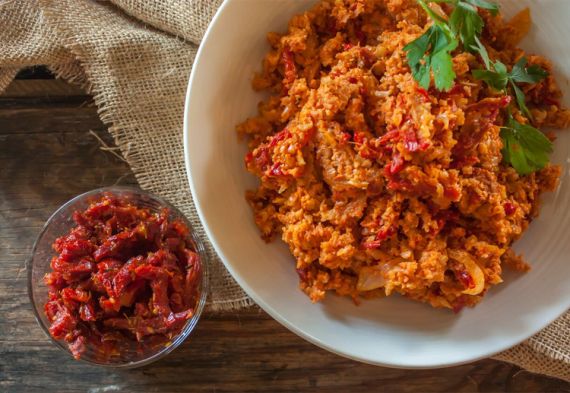 Ingredients
1 head cauliflower, broken into florets
1 yellow onion, halved and thinly sliced
1-8.5 ounce jar Bella Sun Luci Sun Dried Tomato Halves in Oil
1 pack Bella San Luci Slow Roasted Snacks, chopped
¼ cup tahini paste
2 tsp garlic, minced
1 tsp ground cumin
Directions
Preheat oven to 375 °F.
Drain 2 teaspoons of oil from the sun dried tomatoes and toss with cauliflower florets. Sprinkle with cumin and roast for 12-15 minutes, or until golden.
Transfer roasted cauliflower to a food processor and pulse to resemble rice. Remove from food processor to a bowl and set aside.
Place tahini paste, and tomatoes in a food processor and puree until smooth. Thin out with water if necessary to make a thin sauce, set aside.
Add onion, garlic, and 1-2 teaspoons of olive oil to a sauté pan and cook until onion is softened. Stir in cauliflower and tahini sauce and cook until thickened, about 5 minutes.
Stir in chopped Bella Sun Luci Slow Roasted Snacks, season with salt and pepper to taste and serve.
Serves 4.