Roast Pork Stuffed with Sun Dried Tomatoes and Olives
Overview
This is a simple and delicious recipe. Eight total ingredients. Every recipe for stuffed pork tenderloin I've ever made turned out to be tenderly delicious...luscious. This recipe is no different. There is also a famous recipe called Arista alla Toscana that I've made many times. It's famous for a reason (it's awesome) and it calls for, instead of pork tenderloin, pork loin, or pork loin chops, or the whole bone-in rack. You can substitute the loin for the tenderloin if you choose to, or need to due to availability. Happy cooking!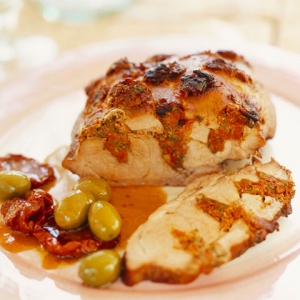 Ingredients
Cooking Spray
2½ pounds pork tenderloin
1 cup Bella Sun Luci Sun Dried Tomato Pesto
¼ cup balsamic vinegar
2 Tbsp. prepared honey mustard
2 Tbsp. chopped fresh thyme leaves
Salt and freshly ground pepper
2 cups quick cooking rice, prepared according to directions.
½ cup Bella Sun Luci Sun Dried Tomatoes Julienne-Cut
Serves 6
Directions
Preheat oven to 400 degrees.
Coat a shallow roasting pan with cooking spray.
Using a sharp knife, cut pork lengthwise ¾ of the way through.
Place in a prepared pan and spread sun dried tomato pesto in the incision.
Fold pork back in half and use a metal or wooden skewer to close the seam.
Season with salt and black pepper.
In a small bowl combine vinegar, honey mustard and thyme. Spoon mixture over pork.
Roast for 45 minutes until an instant thermometer reads 155 degrees.
Let pork rest for at least 10 minutes before slicing crosswise into 1 inch thick slices. Serve pork with rice.
Garnish with Bella Sun Luci Sun Dried Tomtoes Julienne Cut and green or black olives.