California Summer Salad
Overview
This is one of my favorite salads on our menu of recipes. It's CalItaliano! The Bella Sun Luci sun dried tomatoes, the avocado, mozzarella and basil are a match made in heaven. In fact, this is a fresh take on a Cali Caprese! I could, or would, eat them on any salad! Good appetito!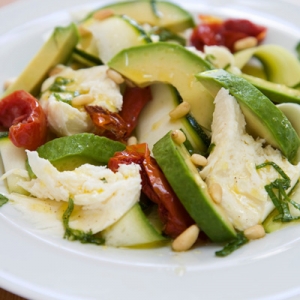 Ingredients
1 Whole Avocado
1 8.5 oz jar of Bella Sun Luci Sun Dried Tomato Halves (Reserve Olive Oil)
1 English Cucumber
1 8 oz Package of Fresh Mozzarella
1 tbsp Whole Pine Nuts
8 Basil Leaves
Rice Vinegar to taste
Salt & Pepper to taste
Directions
Combine in a bowl one sliced ripe avocado lengthwise, mozzarella torn into bite sized pieces, and one cucumber cut into thin slices lengthwise.
Add an entire 8.5-ounce jar of Bella Sun Luci Sun Dried Tomatoes including olive oil and gently toss.
Top with pine nuts, thinly sliced basil, rice vinegar, and salt and pepper to taste.