Asparagus, Olive and Sun Dried Tomato Bowties
Overview
This simple dish is the ultimate one pot pasta for a simple weeknight dinner or flavorful side. With the best compliment for this pasta being sun dried tomatoes it is only fitting to ave bright flavors of asparagus and olives. A colorful addition to your Mediterranean dishes.
Total Cook Time: 15 minutes
Serves: 4
Vegetarian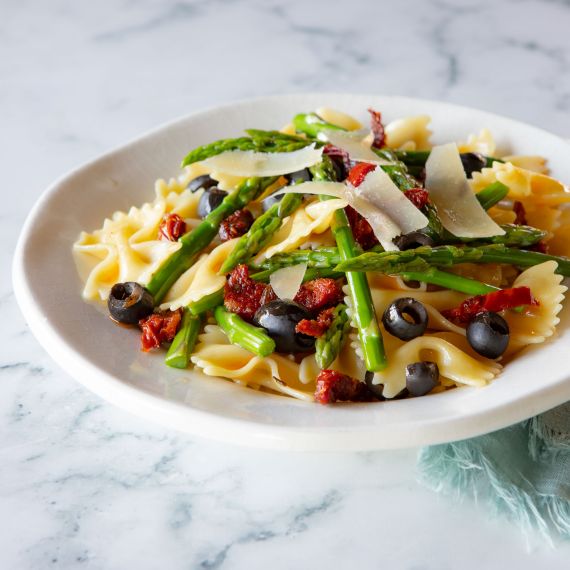 Ingredients
9 oz bowtie pasta
Salt for the pasta water
1 lb asparagus, cut into 1½" pieces
2 c black olives
½ c Bella Sun Luci Sun Dried Tomatoes Julienne-Cut in Oil, drained from oil
1 tbsp Bella Sun Luci Extra Virgin Olive Oil
2 cloves garlic, minced
Salt and Pepper
Parmesan cheese for garnish
Directions
Prepare pasta as directed on package.
Sixty seconds before the pasta is done, add the asparagus to the pot.
Drain the pasta-asparagus, and put into a medium sized bowl.
Add olives, sun dried tomatoes, olive oil, and garlic to bowl and stir to combine. Salt and pepper the dish to taste.
Top with Parmesan cheese and serve warm.