Bella's Classic Red Sauce Ragù
Overview
This recipe brings together a combination of ingredients with robust flavors that will tantalize your taste buds. The dish starts with savory ground beef, cooked to perfection and seasoned to enhance its richness. The addition of finely chopped onions adds a subtle sweetness and depth to the overall flavor profile. But the real star of this recipe is the Bella Sun Luci Tomato & Basil Sauce Starter. Bursting with the vibrant flavors of sun-ripened tomatoes and aromatic basil, this sauce infuses the dish with a burst of Mediterranean goodness. Its robust and tangy notes perfectly complement the meaty richness of the ground beef.
Total Cook Time: 15 minutes
Serves: 5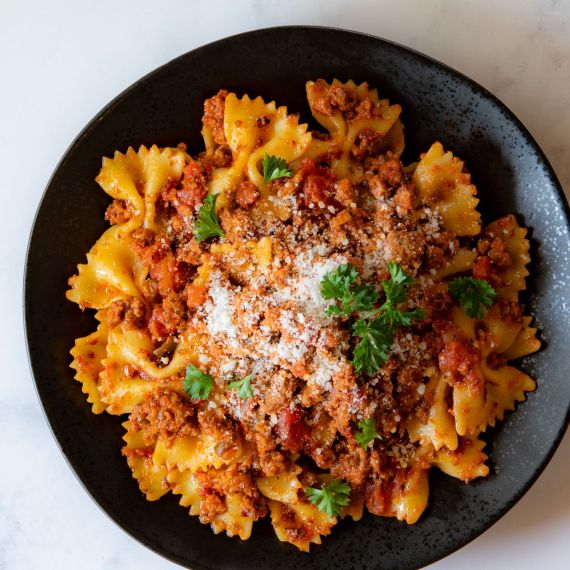 Ingredients
1 lb ground beef
1 onion, finely chopped
3 c chicken stock
2 tbsp Bella Sun Luci Sun Luci Tomato & Basil Sauce Starter
2 tbsp Bella Sun Luci Extra Virgin Olive Oil
Salt and pepper to taste
1 lb cooked pasta
Grated Parmesan cheese, for serving
Fresh basil for garnish
Directions
In a large saucepan, heat the olive oil over medium heat. Add the chopped onion then sauté until they become soft and translucent.
Add the ground beef to the saucepan and cook until it is browned and cooked through, breaking it up with a wooden spoon as it cooks. Once the ground beef is cooked set aside.
Add chicken stock and Sauce Stater to the saucepan. Stir well to combine all the ingredients.
Bring the sauce to a simmer and then reduce the heat to low. Cover the saucepan and let the sauce simmer for about 10-15 minutes, stirring occasionally to prevent sticking.
While the sauce simmers, prepare your pasta according to the package instructions until al dente. Drain the cooked pasta and set it aside.
Once the sauce has thickened and the flavors have melded together, remove it from the heat. Add meat back to pan. Taste and adjust the seasoning with salt and pepper if needed.
Serve the sauce over the cooked pasta. Sprinkle grated Parmesan cheese on top for added flavor and garnish with fresh basil.