Cucumber, Prosciutto, Provalone and Roasted Tomato Canapes
Overview
These tasty, tangy morsels will wake up and kick start your palate. Feel free to substitute Bella Sun Luci sun dried tomatoes for the roasted cherry tomatoes and...when nobody's looking, make yourself a sandwich out of all of these ingredients, take a big bite, close your eyes while you chew you'll and feel yourself transported to la madre terra...the motherland...Italia...with all of her colors, textures and flavors. Buon viaggio!!!
Total Cook Time: 15 minutes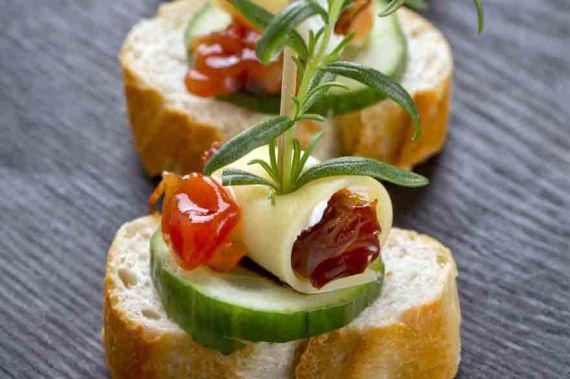 Ingredients
1 hothouse (English) cucumber, sliced as pictured (you may semi-peel it for presentation purposes)
Several slices of provolone cheese, cut to about 1-inch squares
Several slices of prosciutto, cut to about 3/4-inch squares
1 basket cherry tomatoes
1 tbsp Bella Sun Luci Extra Virgin Olive Oil
1 sourdough baguette
Salt and fresh cracked black pepper to taste
1 package skewer sticks or chopsticks
Directions
Slice the baguette LAST. It's simply bread…no oil or anything to preserve it, so keep it as fresh as possible before and after slicing and serving.
Roast the tomatoes, seasoned with the olive oil, salt and pepper at 375 for 10 minutes. Remove to a plate to cool.
Wrap the prosciutto in the cheese and skewer it to the bread, topped with the cucumber as shown.
Balance a cherry tomato strategically on each canapé.
Chef's notes
You can use roasted vegetables (carrots…potatoes…beets…) instead of prosciutto to make this dish vegetarian. You may also want to use different meat instead of the prosciutto (rotisserie chicken…sliced turkey…crisp bacon…)