Greek Summer Melon Salad
Overview
This salad is an exquisite medley of colors, textures, and tastes, making it an inviting centerpiece for any summer gathering or a delightful treat on a warm day. With each forkful, you'll experience a delightful combination of sweet and savory, with the zesty vinaigrette tying all the elements into a harmonious and irresistible summer delight!
Total Cook Time: 15 minutes
Serves: 4
Gluten Free Vegetarian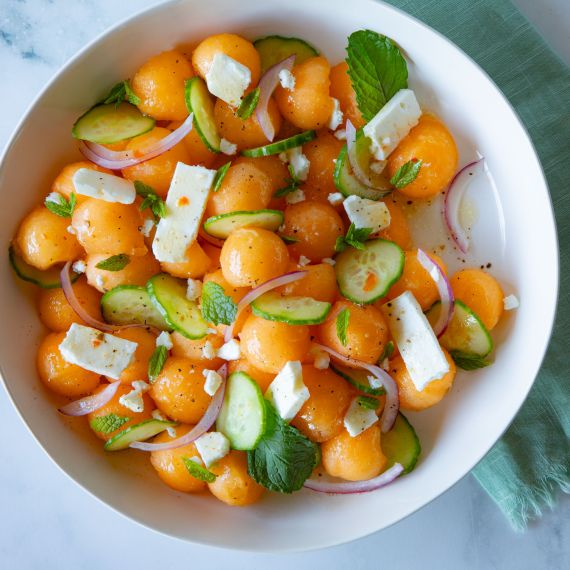 Ingredients
1 ripe cantaloupe, peeled, seeds removed, and balled
1 cucumber, thinly sliced rounds
¼ small red onion, thinly sliced
½ c crumbled feta cheese
¼ c fresh mint leaves, chopped
Bella Sun Luci California Vinaigrette
Salt and pepper to taste
Directions
Cut the cantaloupe in half, scoop out the seeds, and remove the rind. Using a melon baller scoop the cantaloupe into bite-sized balls and place them in a large salad bowl.
Slice the cucumber into small rounds and add it to the bowl with the cantaloupe.
Peel and thinly slice the red onion and add it to the bowl with the other ingredients.
Drizzle the vinaigrette over the cantaloupe, cucumber, and red onion in the bowl. Gently toss the ingredients to coat them evenly with the vinaigrette.
Sprinkle the crumbled feta cheese and chopped mint leaves over the salad.
Place the salad in the refrigerator for about 15 minutes to allow the flavors to meld together. When ready to serve, give it a final toss, and adjust the the flavor with salt and pepper if needed.