Seared Sea Scallops with Sun Dried Tomato-Bell Pepper Relish
Overview
This super simple and super delicious recipe might just become a centerpiece of your culinary repertoire. The foundation, this relish and the greens, is a fine blank slate to add any ingredients to, to make a new dish whenever the fancy hits you. Prawns...yes. Chicken, fish, steak, pork...grilled vegetables...there are a million possibilities for this recipe. Starting with seared scallops is a fine idea.
Total Cook Time: 30 minutes
Gluten Free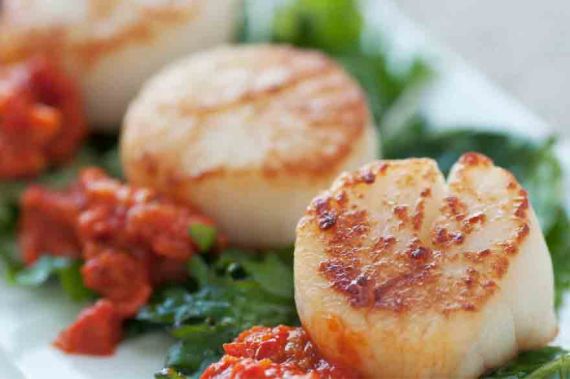 Ingredients
For the scallops:
12 jumbo (U-16, meaning under 16 per pound, or 16-20 count) sea scallops, side muscle removed
1 tbsp Bella Sun Luci extra virgin olive oil
1 tbsp unsalted butter
Sea salt and cracked black pepper to taste
For the Relish:
½ jar (about 4 oz) Bella Sun Luci Sun Dried Tomatoes julienne cut with extra virgin olive oil (use half the jar of tomatoes and half of the oil in the jar)
½ cup roasted red bell peppers
1 clove garlic minced
Sea salt to taste
For garnish/presentation:
½ bunch of your favorite greens (swiss chard or kale are preferred as you will be saucing the greens with the leftover scallop-olive oil-butter mixture)
Directions
Make the relish in advance by simply combining all ingredients. Wash, dry and tear/cut into bite size pieces the greens. Present the greens and relish as pictured.
Pat dry and season the scallops with the salt and pepper in advance.
In a sauté pan heat the oil to very hot on a high flame.
Carefully put the scallops into the pan (using tongs). Add the butter immediately.
Sear on the first ("presentation") side until each scallop is golden brown.
Turn over until just cooked.
Present the scallops on the greens and relish and pour the olive oil-butter mixture that remains over the greens.