Zesty Sun Dried Tomato Prawns with Spaghetti
Overview
One of the vibrant colors found in southern Italy's summer palette is represented by the deep red of the chili pepper. Known for its heat and introduction from the Spanish during the Colonialism. The idea of this dish comes from Chef Richard with the idea of creating a highly flavorful meal, that doesn't leave the chef in the kitchen for hours. The little pepper carries bright, zesty notes that exist in our Zesty Sun Dried Tomato Prawns with Spaghetti. The lively flavor of this dish comes from the sweet sun dried tomatoes, tart lemon juice, and zesty spices.
Total Cook Time: 30 minutes
Serves: 4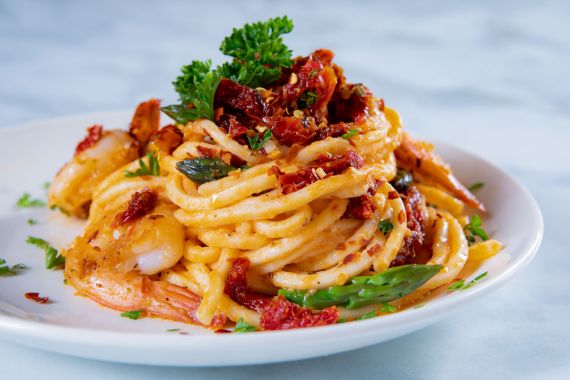 Ingredients
½ lb spaghetti
Salt for the pasta water
2 tbsp Bella Sun Luci Extra Virgin Olive Oil
1 3-ounce bag Bella Sun Luci Zesty Sun Dried Tomatoes
1 lb jumbo prawns, peeled and deveined
4-6 large cloves garlic, minced
¼ c white wine
2 tbsp butter
¼ c fresh parsley, chopped
Salt and pepper to taste
Directions
Cook the pasta in abundantly salted water 1-2 minutes less than the package says, stirring often the first few minutes.
Once the pasta goes in the water, in a very large sauté pan, heat the olive oil, cook the prawns until about half done, add the garlic and white wine, and cook until the prawns are done and the wine has mostly evaporated.
Add the sun dried tomatoes, butter, salt and pepper, and stir in well to melt the butter.
Strain the pasta well and turn it into the sauté pan with the prawns, tomatoes and sauce, and half the parsley, then stir well.
Plate four equal portions and garnish each with the remaining parsley.