Rigatoni with Vodka Sun Dried Tomato Sauce
Overview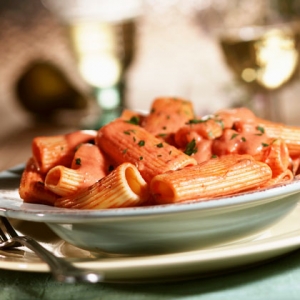 Ingredients
1/2 to 2/3 cup Bella Sun Luci Sun Dried Tomatoes Julienne cut or Halves in oil, oil drained and set aside, sun dried tomatoes pureed and set asked separately
4 lg garlic cloves, rough chopped
1/2 tsp whole dry oregano
8 oz good quality vodka
28 oz crushed tomatoes or tomato sauce
Salt and pepper to taste
Parmesan and fresh basil leaves for garnish
Serves 4
Directions
Over a medium flame in a large sauce pan, heat 1 tbsp of the sun dried tomato oil and sauté the garlic, stirring often until light golden.
Add the oregano, stir 15 seconds, turn to low and slowly add the vodka and reduce until 1 1/2-2 oz liquid remains. Add the 28 oz crushed tomatoes or tomato sauce and sun dried tomato puree.
Heat until simmering, turn to low and simmer 10 more minutes stirring often, season with salt and pepper and serve hot over just-cooked, well-drained rigatoni.
Garnish with basil and Parmesan.