Smoked Turkey and Sun Dried Tomato Wrap
Overview
This wrap is what we call CalItaliano. Sun dried tomato pesto and sun dried tomatoes julienne cut add OOMF plus basil...very Italian. Also, replace the cream cheese with mascarpone (sweet Italian cream cheese) to take it a step further. The turkey, avocado and tortilla are decidedly Cali-licious so here you have the best of both worlds. Oh...the romaine lettuce is from either Roma or somewhere near Bakersfield. Either way the added healthy crunch make this wrap CalItaliano, fresh and flavorful and perfect for a picnic.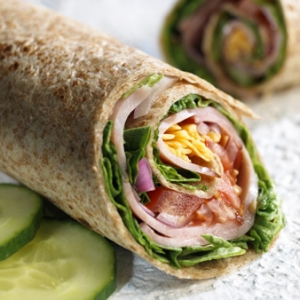 Ingredients
8 oz cream cheese, softened
1 (8.5 oz.) jar Bella Sun Luci sun dried tomato pesto, drained
4 burrito-size tortilla wraps, plain or your favorite flavor
1/2 lb smoked turkey, sliced
2 culs romaine lettuce, shredded
1 (8.5 oz.) jar Bella Sun Luci Sun Dried Tomato julienne cut, drained
1/4 cup red onion, thinly sliced
1 avocado, sliced
Cracked pepper to taste (optional)
Basil for garnish
Directions
Combine cream cheese and pesto in a small bowl; stir well and spread evenly over each tortilla.
Place turkey, lettuce, julienne sun dried tomatoes, red onion, and avocado over bottom third of tortillas, making sure ingredients don't touch edges. Fold the bottom edge of the tortilla toward the center and gently roll the tortilla until it is completely wrapped around the filling.
Wrap tightly in plastic wrap. Refrigerate for 15 minutes.
Cut each wrap in half or into bite-sized pieces for appetizers, and garnish with basil.