Quinoa Stuffed Peppers Mediterranean Style
Overview
Quinoa...the mysterious non-grain. I love it. Some info and tips, Quinoa is not a grain. It's the seed from an ancient Aztec (South and Central American) plant that is the cousin of swiss chard. It is a seed, not a grain and therefore it's gluten-free. It's very high in protein. It's also, for reference, very high in carbohydrates. Its flavor and texture are unique, nutty is my first impression. This is another "grandma recipe", stuffed peppers, that spans many cultures. This version is mediterranean, but adjust the recipe, add and subtract any ingredients, from any cultures, you wish. You can't go wrong.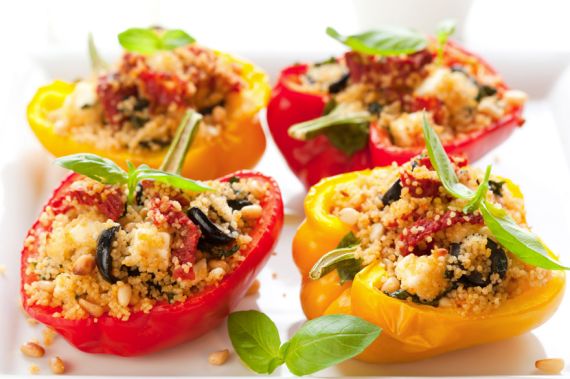 Ingredients
2 large red and 2 large yellow bell peppers, halved, hollowed out
½ cup cooked quinoa (follow the directions on the package)
⅓ cup Bella Sun Luci sun dried tomatoes julienne cut in olive oil with Italian herbs
12 black olives, halved
½" - ¼" cubes mozzarella
½ cup baby spinach
2 cloves garlic, minced
Salt and pepper to taste
8 Basil florettes for garnish
Directions
Baked the cleaned bell pepper halves in a 400 preheated oven for 10 minutes.
When the quinoa is just cooked/still hot, mix in the garlic and then spinach.
Mix in the rest of the ingredients except the basil florettes.
Taste and adjust seasoning.
Stuff the peppers, garnish and serve.